Du changement, du changement ! Suite à des critiques anonymes, j'ai supprimé mon blog, puis l'ai recréé après réflexion en changeant le titre et l'apparence. Non pas que je veuille échapper aux-dites critiques, mais juste qu'après un coup de tête, je prends un nouveau départ. Prenant le risque de m'exposer ainsi aux jugements de tout un chacun, je vous prierai de bien vouloir signer vos commentaires, ce qui est la moindre des choses au regard de ce que je fais. Parce que c'est bien beau de critiquer, mais quand on n'assume pas son identité, ça le fait moins, vous ne trouvez pas ? Et puis, la discussion est plus facile si on a le nom de son interlocuteur...
Changes, changes ! After some bad critics I've received, I deleted my blog, but then I re-created it changing the name and the look of it. Not because I want to escape to those critics, but because after such a decision to delete my blog, I prefer to take a new "departure". I take the risk of being exposed of peoples judgements, so please, sign your comments, it's the most you can do. Because sure it's good to tell your opinion and hurt people, but without assuming your identity, it hasn't got any more value, don't you think ? And discussion is a lot easier when you know the other's name...
Venons-en maintenant au fait de cet article : Xavier Dolan ! Jeune cinéaste québécois extrêmement précoce et génialement unique signe son deuxième long-métrage, "Les Amours imaginaires" (en salles le 29 septembre !), après "J'ai tué ma mère", film que j'ai beaucoup apprécié, autant pour son aspect psychologique (les relations tendues entre un fils et sa mère) qu'esthétique (les images sont belles, ainsi que les couleurs et les acteurs !). En effet, dans son premier film, Xavier est l'acteur principal et le scénariste en plus d'en être le réalisateur ! Mais non seulement fait-il de superbes films, mais en plus, c'est un jeune homme passionné par la mode ! Voyez plutôt :
Now, lets go to the fact of this post : Xavier Dolan ! Young canadian movie director, very precoce and unique, he signs his second long-movie, "The Imaginary Loves" (the 29th September in french cinemas), after his "I killed my mother" that I appreciate a lot, because of its psychological side (the tension between a mom and her son) and its esthetic side (the pictures are beautiful, and the colors, and the actors !). In his first movie, Xavier is the main character, and the writer and the director ! But he doesn't only make beautiful movies, he also is passionate about fashion ! Have a look :
J'aime tout ! La chemise, les lunettes, la coupe, et même le regard qu'il lance à l'objectif, sur de lui et légèrement dédaigneux. Son rôle est parfait ! Enfin, voyez les quelques images de ses films :
I like everything ! The shirt, the glasses, the haircut, and even the way he looks to the photograph, assuming himself and a little "pretentious". His role is perfect ! See some of his movies pictures :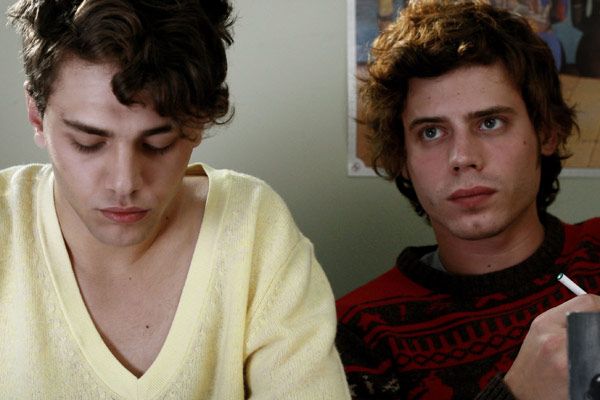 Xavier à gauche, en jaune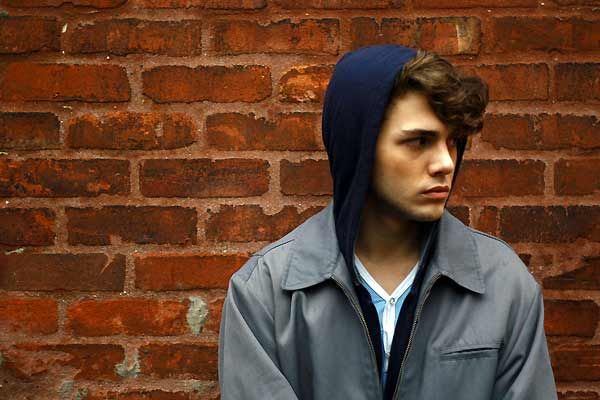 Et pour finir, les bandes annonces des deux films :
And for the end, the trailers of both movies :
Alors ? Vous en pensez quoi ?
So what do you think about it ?