Et voilà, mon amoureux rentré, nous avons des photos de bien meilleure qualité ! Et je fais des rimes, c'est trop la frime ! Ouaaah, j'en fais encore, c'est trop fort !! Bon, on va s'arrêter là, question d'honneur personnel. Donc, le titre annonce bien la tenue : une robe Ashley vintage découverte chez ma grand-mère (oui, c'est une vraie mine d'or, son grenier !) mais pas mal modifiée. J'ai notamment enlevé les manches gigot et coupé la robe plus court (elle arrivait aux chevilles initialement). Bref, avant, elle ressemblait à ça (niveau coupe, silhouette, etc. ...) :
Now my boyfriend is back, we have pictures of a better quality ! (Here in the french part, i make some stupid language jokes that i can't translate, but don't worry, you're not missing anything !) So, the title tells well the outfit : a Laura Ashley vintage dress i found at my granma's (she's wonderful, her house gots so much treasures !) that i changed a lot. I cut off the sleeves and made the dress shorter (it came to the ankles before). Before, the dress looked that way (silhouette speaking) :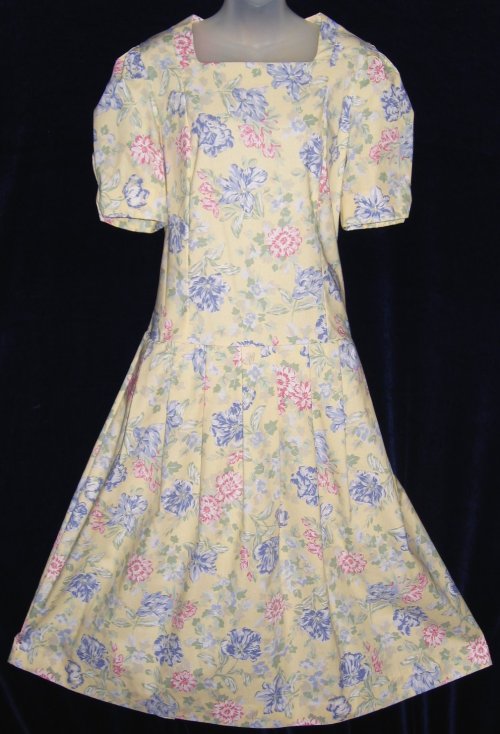 Et maintenant, d'une robe Laura Ashley, elle est devenue une robe Laura Ashley & Adelythe Wilson ! Je vous laisse juger par vous-même :)
And now, from a Laura Ashley dress, it became a Laura Ashley & Adelythe Wilson dress ! Tell what you think about it :)
Potiche power : vous avez gagné une maison !
Dress/Robe : Laura Ashley & Adelythe Wilson :D
Shoes/Chaussures : New Look
Bague et Boucles d'oreilles/Ring and Earrings : home made !